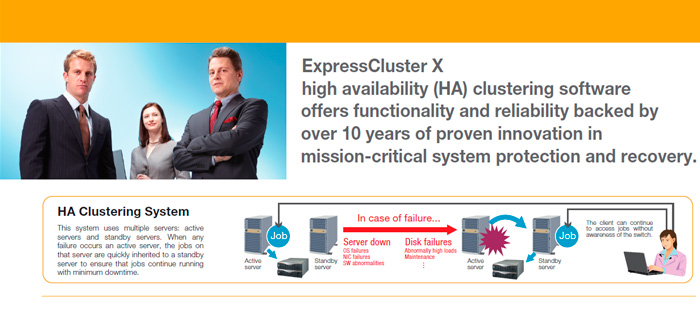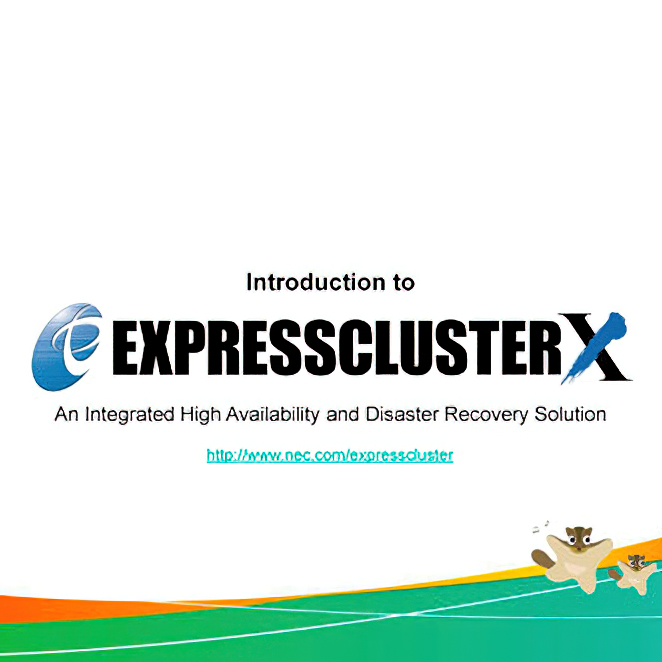 NEC EXPRESSCLUSTER
NEC EXPRESSCLUSTER is an integrated High Availability (HA) and Disaster Recovery (DR) software solution that addresses fast recovery and continuous protection needs of business critical applications and data.
EXPRESSCLUSTER minimizes system outages due to sudden events like hardware, software and site failures or planned outages due to hardware, software and site maintenance.
EXPRESSCLUSTER enables easy to deploy and cost effective continuity solutions for critical systems running industry standard applications, OS, and virtualization platforms With ease of deployment and management as key design elements, NEC delivers a significantly reduced total cost of ownership when compared to alternative solutions.
Compare
Data Protection
Robust disk mirroring capabilities including both synchronous and asynchronous mirroring modes. With flexible support for multiple configurations, EXPRESSCLUSTER enables up to 99.99% data availability.
Ensuring data on both servers always synchronized and protected.
Multiple split-brain detection and resolution techniques to maintain data integrity.
Fast data mirroring technology replicating only updated blocks
High Availability (HA)
EXPRESSCLUSTER ensures High Availability (HA) to application and data in local area networks (LAN).
With full clustering capabilities and unique synchronous data mirroring technology, it delivers reliable data protection at all times.
Support for low cost standard applications and hardware minimizes total cost of ownership.
Easy application and data workload migration minimizes planned downtime.
Disaster Recovery (DR)
Powerful disaster recovery capabilities for business critical transactional applications and data.
It ensures near-instant recovery after system failure for full data protection, even over standard T1 WAN spanning hundreds of miles.
Fast application recovery with virtually no data loss maximizes business continuity.
Unified disaster recovery solution for multiple application systems magnifies manageability.
Support for standard application, OS, server, storage and network minimizes total cost of ownership (TCO).
Specification