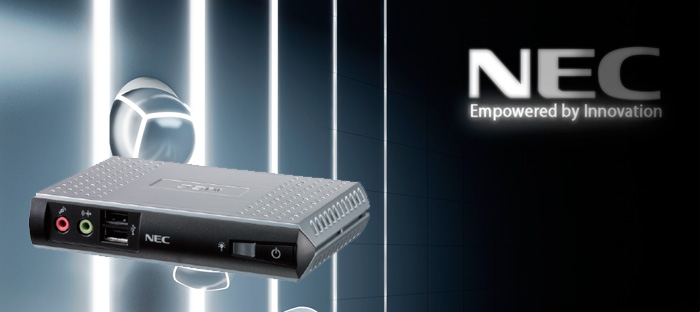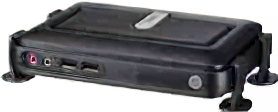 Create a secure and highly productive working
environment with NEC's thin client terminals
Ensuring security and reducing TCO (Total Cost of Ownership) are no longer fads----they areessentials for any business looking to grow. As an effective solution to both of these issues,thin client systems are rapidly gaining in popularity. Thin client solutions eliminate the need for data storage on client terminals by consolidating data and applications that have traditionally been stored on individual PCs. Not only does this minimize the risk of information leaks, it also enables centralized management of multiple terminals, thus reducing operational costs.
Compare
Specification
US110c
 

Key features
Secure and affordable terminal featuring dual monitor capability
Processor
VIA Eden 1GHz
Memory
128MB Flash/512MB RAM DDR2
Network Interface
1000/100/10-Base-T IEEE802.11 b/g/n
(for wireless LAN model*)
Graphics
Max. 1600 x 1200 Dual display available
External Dimensions(W x D x H)
177 x 121 x 34 mm (excluding the stand)
Weight
670g
Power Consumption
Max. 14W
Terminal Embedded OS
Windows CE 6.0
Other
Supported protocol RDP6.0 ICA10.17
* Not available in certain countries/regions. Please contact your local NEC office for details.