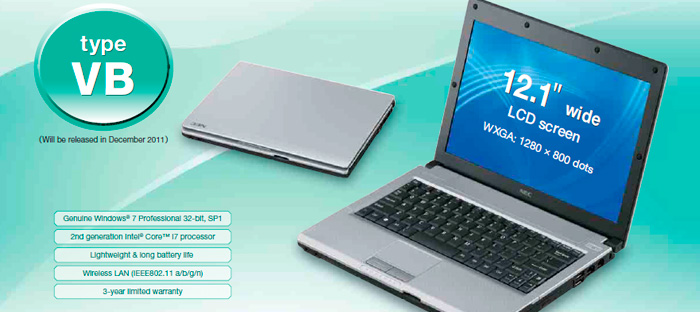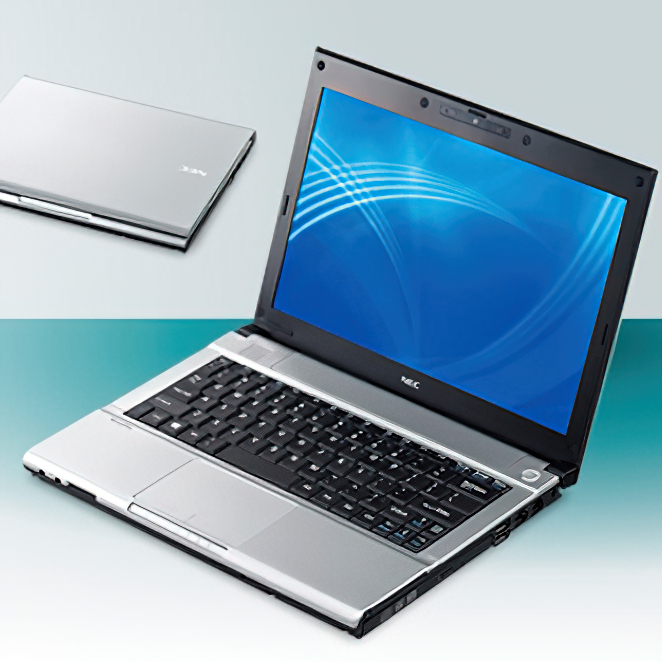 VersaPro type VB
12.1" mobile laptop providing the power-performance balance required by business people on the go.

Compare
Genuine Windows® 7 Professional 32-bit
Genuine Windows® 7 Professional provides a powerful combination of innovation and improved performance.
Powered by Intel® Core™ i5 Processor
The 3rd generation Intel® Core™ i5 processor provides smart performance by Intel® Turbo Boost Technology 2.0 that allows processor cores to run faster when needed, and Intel® Hyper-Threading Technology that enables each processor core to work on multiple tasks at the same time.
Web camera
VersaPro type VB has a web camera above the LCD screen to make web meetings, instant messaging, and other forms of business communication easier and more convenient.
Long battery life
The standard battery provides approximately 5.2 hours* of continuous operation. This is extended to approximately 10.6 hours* if you select the L battery.
*:Measured by using the JEITA Battery Run Time Measurement Method for Notebook PCs (Ver 1.0).
Easy-to-carry super-slim AC adapter
VersaPro type VB uses a super-slim AC adapter that can be carried easily with the computer. The standard AC adapter supplied with VersaPro type VB has a super-slim profile of only 18.5 mm—40% slimmer than previous laptop adapters.The adapter also features rapid charging capability, letting you charge the battery quickly before leaving the office.
Wireless LAN
By connecting to wireless LAN access point,you can access intranet or internet without inserting or removing a LAN cable when you move to a meeting room or other rooms with a PC.
Fine-Scratch-Proof top panel surface
Coated with Scratch Repair, a self-healing layer for naturally repairing fine scratches, the surface of the top panel can retain its beauty for a longer time.
*:Self-repair will not occur in the case of deep scratches that peel off the Scratch Repair layer or if the layer itself is severed off.
Waterproof Keyboard
A waterproof sheet under the keyboard delays the intrusion of water droplets inside the computer, giving you time to safely shut down the system.
*:The waterproof keyboard does not guarantee full waterproofness of the computer. In the case of spills, please have your computer inspected and repaired (for a fee) as necessary.
150 kgf Class robust design
Assuming the stresses to which devices can be subjected in crowded trains, type VB is designed and built to pass a 150 kgf plane pressure test and 25 kgf pin-point pressure test (while turned off)*.
*: The plane pressure test is done by applying pressure of 1470 N (150 kgf) uniformly distributed over the top panel. The pin-point pressure test is done by applying pressure of 245 N (25 kgf) on round areas with a radius of 15 mm uniformly distributed over the top panel, palm rest and keyboard. These tests do not guarantee protection from damage and/or failure resulting from pressure.
76 cm Drop Test
Assuming a drop from a desk, type VB was subjected to a drop test from the height of 76 cm (while turned off), followed by confirmation that there was no damage to the data on the internal HDD.
*:No guarantees are made that the internal HDD will be protected from damage and/or failure.
TPM security chip enabling password-based security control
VersaPro type VB has an embedded TPM security chip that enables information used for authentication that used to be stored on the hard disk, such as encryption keys, to be stored and managed more securely. This makes it possible to link with other security features, facilitates password management and prevents unauthorized access to the encrypted files on the hard disk.
*:Not installed in China models.
*:VersaPro type VB is shipped with the security chip turned on.
*:The TPM version is TCG v1.2.
Specification
VersaPro type VB
Product code
VG26M/BC-F
VC26M/BC-F
Installed OS
Windows® 7 Professional 32-bit, SP1. Select from English, Simplified Chinese*1, or Japanese*2.
CPU
Intel® Core™ i5-3320M processor*3
 
Clock speed (when Max turbo frequency)
2.60 GHz (3.30 GHz max.)
Number of cores/threads
2/4
L3 cache memory
3 MB
Memory bus
1,600 MHz
Chipset
Mobile Intel® QM77 Express chipset
Security chip
TPM (TCG v1.2) (not provided on models sold in China)
Memory (main memory)
DDR3-SDRAM PC3-12800 4 GB [SO-DIMM slot × 2]*4*21, 8 GB max.
Display
LCD
12.1" wide TFT color LCD (WXGA: 1280 × 800 dots LED LCD), 16.77M colors*5*22
Graphics accelerator
Intel® HD Graphics 4000 (built into CPU, with dual display support and smoothing function)
 
Video RAM
Max. 1,550 MB
Audio source and sound
Intel® High Definition Audio / Built-in monaural speaker*23
Communication
LAN
LAN 1000BASE-T/100BASE-TX/10BASE-T, Remote Power On (Wake on LAN), Intel® AMT8.1
Wireless LAN (IEEE 802.11a/b/g/n)*6*7
IEEE802.11a/b/g/n*8, Wi-Fi Direct™, WPA2, WEP [encryption key length: 64/128 bits (part set by user: 40/104 bits)], Intel® AMT8.1
FAX modem*9*19
Modem data transfer speed: 56 kbps max.*10 (V.90); FAX data transfer speed: 14.4 kbps (V.17)
HDD
Approx. 500 GB*11*12, Serial ATA/300, 5400 rpm, SMART functions supported
Optical drive
DVD super multidrive / none
Input devices
Keyboard
English keyboard (Key pitch: 17.55 mm; key stroke: 2.2 mm) for English & Chinese OS; Japanese keyboard(key pitch:17.55mm; key strolse:2.2mm) for Japanese OS
Pointing devices
NX pad with integrated click buttons and multitouch/gesture functions
Web camera
HD resolution (720P) camera, 920,000 effective pixels
Microphone
Stereo microphone
Interfaces
USB
USB 3.0 × 1 (with power-off USB charging, on left side), USB 2.0 × 2 (on right side)
Display
Mini-D-sub 15 pin × 1, HDMI port × 1*24
Communication
RJ45 LAN × 1, RJ11 modular (fax modem) × 1
Sound
Microphone input: stereo mini jack × 1; headphone/line output: stereo mini jack × 1
Acceleration sensor
Built-in acceleration sensor*13 for drop detection
PC card slots
Type I/II × 1 slot (type III cannot be used) complying with PC Card Standard and supporting CardBus*20
Memory card slot
SD (SDHC/SDXC) memory card slot × 1*14
Power supply
Battery pack or AC 100 to 240 V ±10%
Maximum power consumption
Approx. 65 W
Battery*15
Lithium-ion (M)
3 cells, DC 10.8 V, Typ. 3350 mAh
Battery drive time: 5.2 hours (JEITA measurement)
Charging time: 3.3 hours when powered on/3.3 hours when powered off
Lithium-ion (L)
6 cells, DC 10.8 V, Typ. 6700 mAh
Battery drive time: 10.6 hours (JEITA measurement)
Charging time: 3.8 hours when powered on/3.4 hours when powered off
Dimensions (excluding protrusions)
292 (W) × 223 (D) × 29.5 (H) mm
Weight (including battery)*16
Approx. 1.31 kg*17
Temperature and humidity conditions
5 to 35°C, 20 to 80% (non-condensing)
OS for which drivers are supplied
Windows® 7 Enterprise 32-bit (SP1)
Windows® 7 Professional 32-bit (SP1)
Main accessories
AC adapter, user's manual, reinstallation media*25, etc.
Additional specifications for each country model
Asia-Pacific model
Safety standards
Complies with IEC60950-1
EMC
MPT
Modem
IDA?POSTEL
SIRIM?TCN?NTC
Wireless LAN
IDA?SDPDI
SIRIM?MIC?NTC
AC adapter
PSB
Environmental Soundness
CIRCULAR, No.30/2011/TT-BCT*26
China model
| | |
| --- | --- |
| Safety standards | CCC |
| EMC | CCC |
| Modem | NAL |
| Wireless LAN | SRRC |
| AC adapter | CCC |
Japan model
Safety standards
Complies with Electrical Appliance and Material Safety Law
EMC
VCCI class B
Modem
Complies with technical standards for telecommunications equipment
Wireless LAN
ARIB
Energy efficiency
(fiscal 2011 energy saving achievement rate)
N Category 0.0618 (AAA)
PC Green Label compliance
???(Certificate in Japanese)
Environmental soundness
Law on Promoting Green Purchasing
Green Purchasing Guidelines
VOC Guidelines
J-MOSS Green Mark
J-MOSS Green Mark