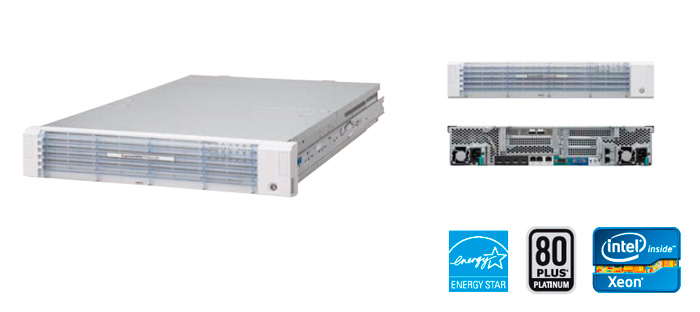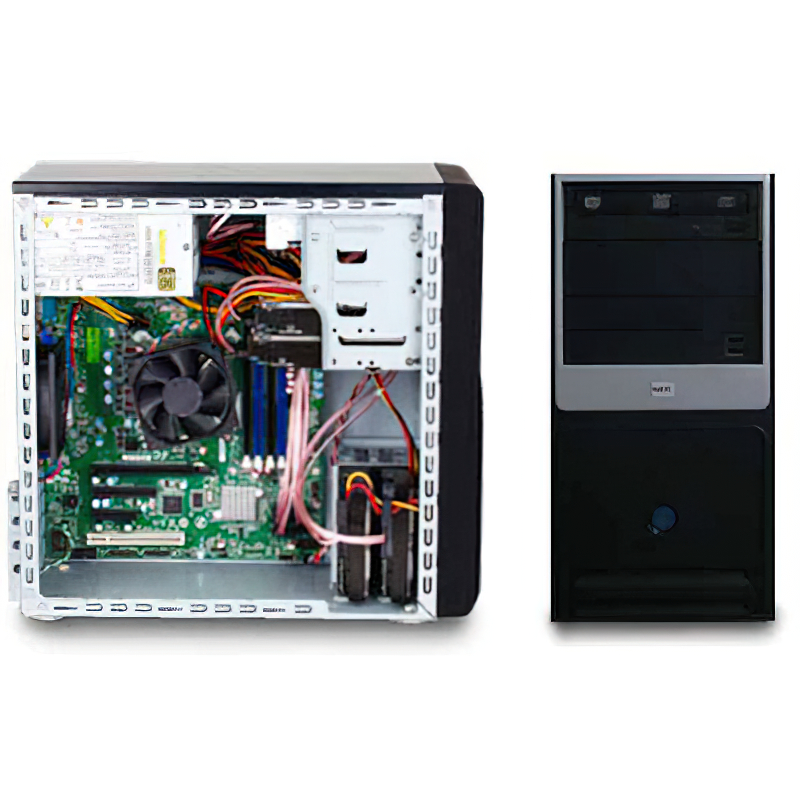 Value server for SMB
New Intel® Xeon® E3-1200 product family bring boosted performance and lower power consumption.

The Express5800/T71e is an entry level mini-tower server. This single processor server provides essential features at an affordable price and is designed for easy setup and whisper quiet operation. Perfectly suitable for budget-and-energy-conscious businesses with small offices
and shops.
Compare
High performance
Support for Intel® Xeon® Quad-Core
processor (E3-1200 Family)
Up to 32GB main memory
Up to 8 TB disk space
Energy saving
Optimized to lower power consumption
80 PLUS® Certified power supply unit
Specification
| | |
| --- | --- |
| MODEL | EXPRESS5800/T71e |
| Processors | Intel® Xeon® E3-1220 (3.10GHz/4C/8MB) Intel® Xeon® E3-1270 (3.40GHz/4C/8MB) |
| Chipset | Intel® C202 Chipset |
| Memory | 4 x DDR3-1333 Unbufferd DIMM [Up to 32GB] |
| HDD | 4 x 3.5-inch SATA [Up to 8TB] |
| RAID | Standard: RAID 0/1/10 (On board) Optional: RIAD 0/1/5/6/10 (Add in card |
| Optical disk drive | Standard DVD Super Multi Drive |
| Removal media | 2 x 5-inch Device Bay (1 bay is occupied with DVD Super Multi Drive) |
| Expansion slots | Total: 4 slots 1 x PCIe 2.0 x16 (x16 connector) 1 x PCIe 2.0 x4 (x8 connector) 1 x PCIe 2.0 x2 (x4 connector) 1 x 32bit/33 MHz PCI (3.3V) |
| Network | 1 x 1000BASE-T/100BASE-TX/10BASE-T |
| Power consumption | 220VA/215W (max., at 100V) |
| System fans | standard |
| External interface | 1 x display (15-pin mini D-sub), 1 x serial (9-pin D-sub), 8 x USB (2 x front, 6 x rear, 2 x internal), 1 x 1000BASE-T (RJ45), audio port (1 x MIC-in, 1 x Line-in, 1 x Line-out) |
| Dimension (W x D x H) and weight | 180mm x 370mm x 360mm, maximum 10kg |
| Temperature and humidity conditions | Operating: 10 to 35 ?/ 50 to 95 ?, 20 to 80% (non-condensing) Non operating: 0 to 50 ? / 32 to 122 ?, 20 to 80% (non-condensing) |
| Operating system | Microsoft® Windows Server® 2003 R2, Standard Edition Microsoft® Windows Server® 2003 R2, Standard x64 Edition Microsoft® Windows Server® 2008 Standard Microsoft® Windows Server® 2008 Standard (x64) Microsoft® Windows Server® 2008 R2 Standard Red Hat® Enterprise Linux® 5.7 or later Red Hat® Enterprise Linux® 6.2 or later |