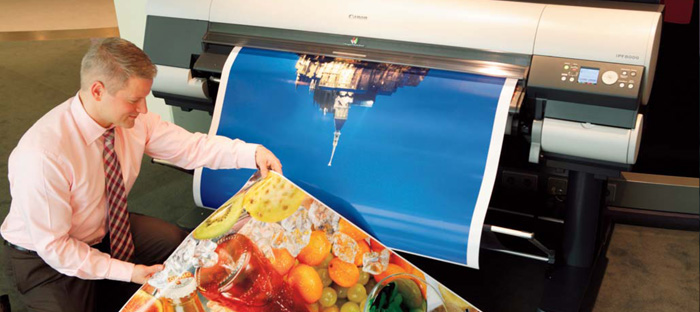 Overview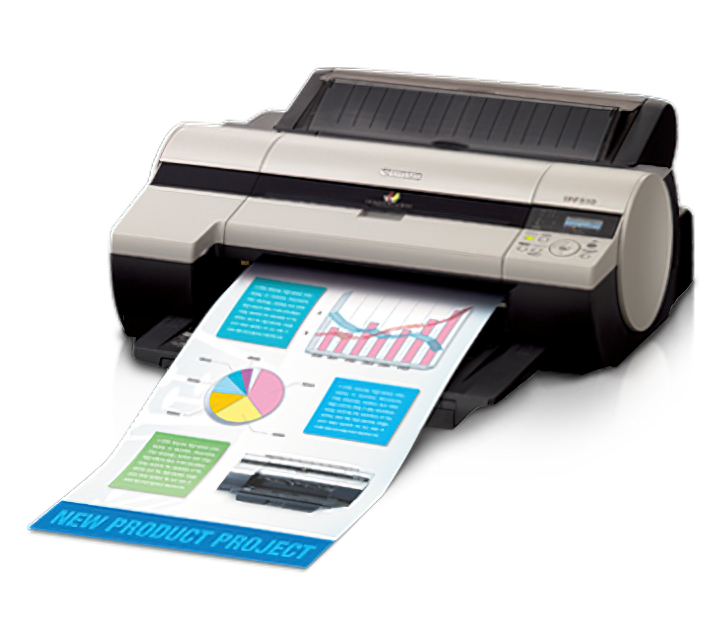 imagePROGRAF iPF510
Stylish with superb quality & speed for various applications
---
Creating a new benchmark, the imagePROGRAF iPF510 prints up to 2400 x 1200dpi and has versatile connectivity options to handle various printing demands from GIS posters to bulky business reports.
5-colour ink system
Optimised for CAD
Print size: 17" (A2+)
Compare
Reactive Ink Technology
Developed especially for printing CAD and business documents, Canon's proprietary Reactive Ink Technology controls the reaction between pigment matte black ink and dye colour ink to prevent blurring along the edges of text characters and lines. When combined, 5-colour dye inks and pigment reactive inks create clear, crisp black output, even where ultra-fine black line drawings and / or text appear next to colour, such as in CAD drawings or graphs.
4 media-feed methods
The imagePROGRAF iPF510 allows 4 media-feed methods: roll, cassette, top-loading manual and front-loading manual – to meet all your printing needs. Media up to 1.5mm thick can be inserted in the front-loading manual feed while the cassette is able to hold 250 sheets of plain paper, to give you further freedom of choice. Simple printer drive operations also allow efficient switching between media options with just one button.
High-speed processor
One single chip, the L-COA, is Canon's leading edge in high-resolution printing – developed to process large volume image data at breathtaking speeds. It simultaneously controls printer operations, printheads and the ejection of colour inks to ensure the high-speed processing of business documents, CAD drawings, posters and other high volume data, so you get the finest quality with no delay.
Print head (Nozzles)
MBk, BK, C, M, Y:
5,120 nozzles for MBK, 2560 nozzles for each other colour
Total:
15,360 nozzles
Maximum print resolution (dpi)
2400 x 1200dpi
Ink tanks
Capacity
130ml each (bundled starter ink: 90ml)
Supply
Tubing system (independent ink tanks)
Media feed
Cassette, Manual feed (top-loading), Manual feed (front-loading), roll paper*1
Maximum printable length
18m
Maximum media width
431.8mm (17")
Media size
Cut sheet
Cassette:
ISO A4, A3, A3+, A2, ARCH B, JIS B3, B4, ANSI Letter, Legal, B, B super, C (17" x 22"), 8" x 10", 10" x 12", 10" x 15", 12" x 16", 14" x 17", 16" x 20" (US photo), 13" x 22"
Manual feed from the top:
203.2mm (8") x 279.0mm – 431.8mm (17") x 609.6mm (24")
Manual feed from the front:
203.2mm (8") x 520.0mm – 431.8mm (17") x 609.6mm (24")
Roll paper*1
Media Width:
203.2mm (8") – 431.8mm (17")
Margins
Printable area
Cassette:
Top: 3mm, bottom: 3mm, left: 3mm, right: 3mm
Manual feed:
Top: 3mm, bottom: 23mm, left: 3mm, right: 3mm
Roll paper*1:
Top: 3mm, bottom: 3mm, left: 3mm, right: 3mm
Recommended print area
Cassette:
Top: 20mm, bottom: 27mm, left: 7mm, right: 7mm
Manual feed:
Top: 20mm, bottom: 23mm, left: 7mm, right: 7mm
Roll paper*1:
Top: 20mm, bottom: 5mm, left: 7mm, right: 7mm
Media Type*3
Plain paper, High resolution paper, Coated paper, Heavyweight coated paper, Premium matte paper, Matte photo paper, Glossy photo paper, Semi-glossy photo paper, Heavyweight glossy photo paper, Heavyweight semi-glossy photo paper, Glossy paper, Photo paper pro, Photo paper plus, Photo paper plus semi-glossy, Synthetic paper, Proofing paper, CAD tracing paper, CAD translucent matte film, POP board and others
Borderless printing media width (roll media only)
254mm (10"), 257mm (B4), 329mm (A3+), 355.6mm (14"), 406.4mm (16"), 420mm (A2)*4 , 431.8mm (17")
Maximum Outside Diameter of Roll Paper
150mm
Media Thickness
Cut sheet
Cassette:
0.08 – 0.3mm
Manual feed from the top:
0.08 – 0.5mm
Manual feed from the front:
0.5 – 1.5mm
Roll paper*1
0.07 – 0.8mm
Interface
Standard
10base-T / 100base- TX, USB2.0 Hi-speed
Option
IEEE 1394*6
Printer language
GARO (Graphic Art language with Raster Operations)
Printer driver OS support
AC100V - 240V
Windows
Windows 98 SE / Me / 2000 / XP*7 / Server2003*7
Macintosh*5
Mac OS 9.1 / 10.2 or later
Printer driver languages
US-English, French, German, Italian, Spanish, Chinese (Mac OS 9 excluded), Korean (Mac OS9 excluded), Japanese
Memory
128MB
Hard disk
-
Power supply
AC 100 – 120 V (50 / 60Hz), AC 220 – 240 V (50 / 60Hz)
Power consumption
Operation
100W or less
Standby (At the low power mode)
100V – 120V:
6W or less
220V – 240V:
7W or less
Power off (standby)
1W or less (in compliance with Executive Order of the President of the United States of America)
Acoustic noise level
Operation:
Approx. 53dB (A) or less
Standby:
Approx. 35dB (A) or less
Operational Environment
Temperature:
15 – 30°C
Humidity:
10 – 80% (condensation free)
Dimensions (W x D x H)
Main unit
819 x 733 x 317mm
Main unit with options / Standby
819 x 810 x 344mm (with Auto Roll Feed Unit)
Weight
Approx. 39kg (with Auto Roll Feed Unit: approx. 43kg)
Environment certifications
ENERGY STAR, RoHS directive, IT ECO Declaration, WEEE, Executive Order of the President of the United States of America, Law on Promoting Green Purchasing, GPN, J-MOSS (Green mark)