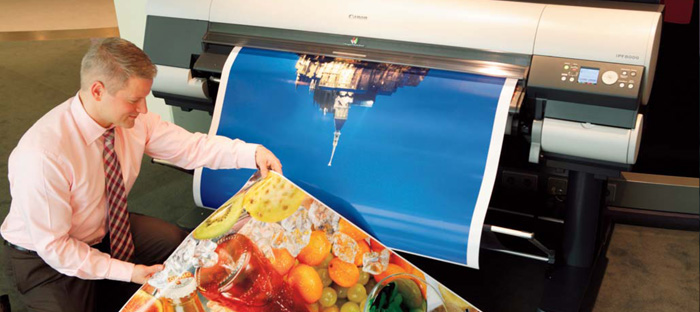 Overview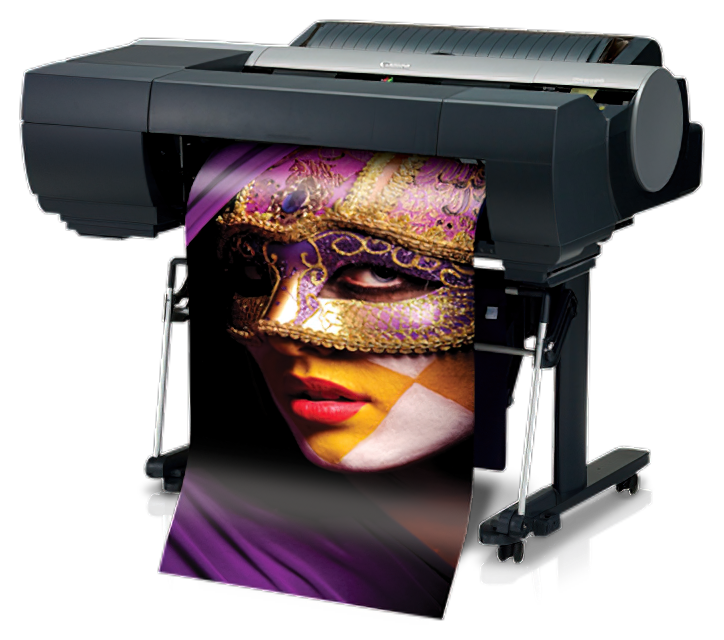 imagePROGRAF iPF6410 / 6460
Designed for professionals in graphics, fine art, photography and proofing markets
---
Superb print quality with precision printing with advanced print head and color technologies, it offer solution to professionals seeking highest possible standards for quality-control and image reproduction.
12-colour ink system
Print size: 24" (A1+)
Optimised for graphics
Compare
New Multi-sensor & Color Calibration Management System
The new Multi-senor included with this printer provides improved colour density detection and allows for a full calibration to be completed within 15 minutes, with the ability to use non-Canon branded media. The New Color Calibration Management System allows for colour calibration targets to be created using the iPF6460 with optional spectrophotometer and shared across all new iPFX410 12-colour printers, and the included software allows for all printers on the network to be monitored from one central location.
130/300ml Ink Tanks & 250GB Hard Disk
Both printer supports ink tank sizes of 130ml and for the first time, 300ml, and the new sub-ink tank keeps some ink in reserve to allow for tanks to be changed without interrupting a print. iPF6460 is also equipped with large 250GB hard drive, geared to increase productivity in high volume printing and streamlined workflows, while allowing faster processing of large files as well as the ability to reprint jobs directly from printer.
Optional SU-21 Spectrophotometer
The iPF6460 had an optional SU-21 Spectrophotometer features a scan speed of 10 inches per second and can accommodate media of different thicknesses (Canon or non-Canon brand) thanks to the mobile carriage the device is placed on, which attaches right onto the front of the printer. The device also includes a user-switchable UV blocking filter that can be switched on and off according to paper type, eliminating the need to purchase individual sensors.
Print Head
PF-05
Technology
FINE (Photolithography Inkjet Nozzle Engineering)
Print Resolution (Max.)
2400 x 1200dpi
Number of Nozzles
2,560 Nozzles per Colour (30,720 Total)
Droplet Size
4 Picoliter
Nozzle Pitch (Head Resolution)
1200dpi x Two Rows
Ink Tank
Ink Type
LUCIA EX (pigment-based)
Model
130ml:
PFI-8106 BK/MBK/C/M/Y/PC/PM/GY/PGY/R/G/B
300ml:
PFI-8206 BK/MBK/C/M/Y/PC/PM/GY/PGY/R/G/B
Ink Capacity
130ml each (bundled starter ink: 90ml)
Number of Colours
12
Ink Supply Method
Tubing system (with sub-tank)
Nozzle Recovery System
Non-firing Nozzle Detection and Compensation
Printer Controller
L-COA Controller
Printer Memory
384MB
Media feed
Roll paper (One Roll, Front-loading, Front Output)
Cut sheet (Front-loading, Front Output (Manual feed using media locking lever))
Hard Disk
250GB (iPF6460 only)
Media Width
203.2mm - 610mm
Media size
Cutsheet
Manual feed from the top:
ISO A4, A3, A3+, A2, A2+, A1, B4, B3, B2 DIN C4, C3, C2 JIS B4, B3, B2 ANSI 8.5" x 11", 8.5" x 14", 11" x 17", 13" x 19", 17" x 22", 22" x 34" ARCH 9" x 12", 12" x 18", 18" x 24", 24" x 36" Photo 20" x 24", 18" x 22", 14" x 17", 12" x 16", 10" x 12", 10" x 15", 16" x 20" (US Photo size) Poster 20" x 30", 300 x 900mm Others 13" x 22"
Manual feed from the front:
ISO A2, A1, B2 DIN C2 JIS B2 ANSI 17" x 22", 22" x 34" ARCH 18 x 24", 24" x 36" Photo 20" x 24", 18" x 22" Poster 20" x 30" Others 13" x 22"
Roll paper
Width:
ISO A3, A2, A1 JIS B4, B2 ARCH D (24") Others 8", 10", 14", 16", 17", 300mm, A3+ (329mm)
Media Type*1
Plain Paper, Universal Bond Paper, Premium Plain Paper 80, Coated Paper, Matte Coated Paper 90gsm, Hi Resolution Coated Bond, Opaque White Paper 120g, Heavyweight Coated Paper, Matt Coated Paper 140g, Matte Coated Paper 170gsm, Matt Coated Paper 180g, Hi Res Barrier Paper, Hi Res Graphic Paper, Matte Photo Paper, Glossy Photo Paper 170gsm, Satin Photo Paper 170gsm, Glossy Photo Paper HG 170, Semi-GlossyPhotoPaperHG170, Glossy Photo Paper 200gsm, Satin Photo Paper 200gsm, Glossy Photo Paper 240gsm, Satin Photo Paper 240gsm, Glossy Photo Paper HG 255, Semi-GlossyPhotoPaperHG255, Premium RC Photo Luster, Pearl Photo paper 260g, Premium Glossy Paper 2 280, PremiumSemi-GlossyPpr2 280, PhotoPaper Plus Semi-Gloss, Photo Paper Pro Platinum, Proofing Paper, Proofing Paper Glossy 195g, ProofingPprSemiglossy 195g. ProofingPprSemiglossy 255g, Adhesive Matte Vinyl, Scrim Banner Vinyl, Durable Banner, Backlit Film HG, Durable Backlit Film, Flame-Resistant Cloth, FineArtEnhancedVelvet 225g, FineArtEnhancedVelvet 255g, Water Res Art Canvas, Graphic Canvas, Artistic Matte Canvas, Artistic Satin Canvas, Extra Heavyweight Coated Paper, Colored Coated Paper, Lightweight Gloss Proof Paper, Lightweight Matte Proof Paper, Proofing Paper 3, Synthetic Paper, Adhesive Synthetic Paper, Roll-Up Gloss Film 180, Backprint Film, Thin Fabric Banner 3, Fine Art Photo, Fine Art Heavyweight Photo, Fine Art Textured, Canvas Matte 2, POP Board, Lightweight Photo Paper, Heavyweight Photo Paper, Newsprint for Proofing, Heavyweight Art Paper, Extra Heavyweight Art Paper , Japanese Paper Washi, CAD ClearFilm, Lightweight Coated Paper, Heavyweight Coated Paper, Adhesive Vinyl, Banner Vinyl, Glossy Film and others
Printable Margins
Roll Feed
All Sides:
3mm or 0mm for Borderless
Manual Feed
Left, Right, Top:
3mm
Bottom:
23mm (Front feed) or 3mm (Top feed)
Minimum Printable Media length
Roll Feed
8.0" (203.2mm)
Top-loading Manual Feed
11.0" (279.4mm)
Front-loading Manual Feed
13.78" (350mm)
Maximum Print length
Roll Feed
59" (18m)
Top-loading Manual Feed
5.2" (1.6m)
Front-loading Manual Feed
36.0" (914mm)
Borderless Printing Widths (Roll Media Only)
10" (254 mm), B4 (257 mm), 14" (356 mm), 16" (407 mm), A2 (420 mm), A2+/17" (432 mm), B2 (515 mm), A1 (594 mm), 24" (610 mm)
Media Cutter
Automatic horizontal cutting ?Rotary cutter?, independent unit
Media Thickness
Roll Feed
0.07 - 0.8mm
Top-loading Manual Feed
0.07 - 0.8mm
Front-loading Manual Feed
0.5 - 1.5mm
Media Core Sizes
Internal diameter of roll core:
2" / 3"
Maximum Roll Outer Diameter
150mm
Software Included
Canon Printer Driver, Print Plug-in for Adobe Photoshop. Print Plug-in for Digital Photo Professional, Printer Driver Extra Kit (Free Layout, Color imageRUNNER Enlargement Copy, Advanced Preview), Print Plug-in for Microsoft® Word / Excel / PowerPoint (PC only), Accounting Manager, Gallery Wrap Feature
Printer Language
GARO (Canon Proprietary)
Operating Systems
Windows® (XP / Vista 32/64bit / Windows 7 32/64bit)
Macintosh® (OSX)
Interface
Standard (Built-in)
USB 2.0 Hi-Speed, 10 / 100 / 1000base-TX
Acoustic Noise
Operation
Approx: 47dB (A) or Less
Standby
35dB (A) or Less
Acoustic Power
6.4 Bels or Less
Power Supply
AC 100 - 240V (50 - 60Hz)
Power Consumption
Maximum
100W or Less
Standby (100 - 120V)
5W or Less
Standby (220 - 240V)
6W or Less
Power Off
0.5 W or Less
Certifications
International Energy Star Program ?WW?, RoHS directive, SPRING
Operational Environment
Temperature
15 - 30°C
Relative Humidity
10 - 80% (No Condensation)
Dimensions (W x D x H) ; Weight
iPF6410 / 6460: 1,227 (W) x 870 (D) x 1,001 (H) mm (with Printer Stand)
Approx. 70kg
iPF6460: 1,227 (W) x 970 (D) x 1,001 (H) mm (with Printer Stand & SU-21) ;
Approx. 91kg
User Replaceable Items
Print Head (PF-05)
Ink Tanks (PFI-8106) / (PFI-8206)
Maintenance Cartridge (MC -16)
Optional SU-21 Spectrophotometer
Model
X-Rite SU-21
Colour Measurement Width
480mm
Max. Media Thickness
0.50mm
XRGA Compliant
Yes
ISO 13655 Compliant
Yes
User Switchable UV Filter
Yes
White / Black Backing
Included on one strip
Support for Third Party RIPS
Most leading Third Party RIPS