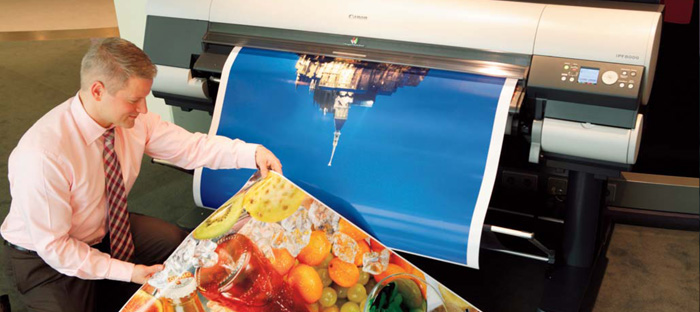 Overview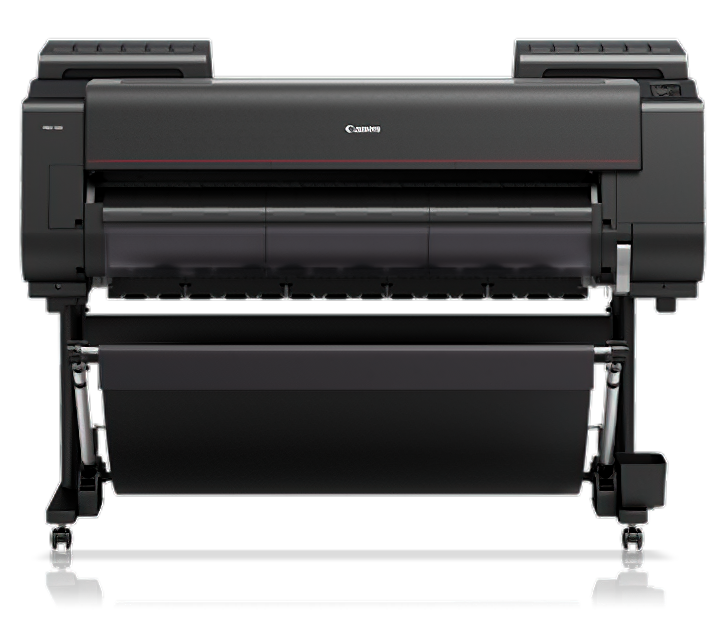 imagePROGRAF PRO-540
PROFESSIONAL from Photo to Print
The best printers Canon has engineered, distinguished by abold red line, the imagePROGRAF PRO?540 is designed tobring outstanding large format photo print quality toprofessional photographers and fine art specialists.
1 roll with 2nd roll option
1118mm (44")
12 colour LUCIA PRO pigment ink
320 GB hard drive
WiFi-Functionality
USB Direct Printing
Compare
New – LUCIA PRO pigment ink & Chroma Optimiser

imagePROGRAF PRO series printers feature a re-designed processing engine: L-COA PRO. It combines the latest and most advanced Canon image-handling algorithms with a newly-developed, application-specific integrated circuit (ASIC) for processing high resolution images and data – delivering the very best print quality at high speed.

imagePROGRAF PRO series printers use transparent Chroma Optimiser ink to improve high quality print performance on gloss papers.

Crystal-fidelity output quality

The full structure, clarity and texture of photographs shot using Canon's EOS digital cameras can be faithfully reproduced on paper, in unique Crystal-fidelity quality, using Canon's Print Studio Pro plug-in.

Great selection of software

The software bundled with imagePROGRAF PRO series printers support a wide range of large-format and advanced printing solutions, with features to optimise the efficiency of printing environments. More importantly, the software is fully cross-platform, supporting both Windows and Apple Macintosh computers.
Model
PRO-540
Printer Type
44" / 1118mm
Ink Type
Pigment inks / 12 colour:
Photo Black (PBK) / Matte Black (MBK) / Cyan (C) / Magenta (M) / Yellow (Y) / Photo Cyan (PC) / Photo Magenta (PM) / Grey (GY) / Photo Grey (PGY) / Red (R) / Blue (B) / Chroma Optimiser (CO)
Maximum Print Resolution
2400 x 1200dpi
Physical Dimensions
W x D x H (mm), Weight (kg)
(including Roll Holder Set, excluding ink and print head)
Main Unit + Stand?+?Basket
1593 x 984 x 1168 (Basket Opened)
1593 x 766 x 1168 (Basket Closed)
Weight approx. 123kg
Main Unit + Roll Unit + Stand + Basket
Weight approx. 143kg
Packaged Dimensions W x D x H (mm), Weight (kg)
Printer (Main unit with stand and pallet)
1820 x 915 x 1019mm, Weight: approx. 174kg
Roll Unit
1727 x 562 x 461mm, Weight: approx. 31kg
Power and Operating Requirements
Input power
AC 100 - 240V (50 - 60Hz)
Power consumption
Operation: 112W or less
Sleep mode: 3.6W or less
Power off: 0.5W or less
Recommended Environment
Temperature: 15 ~ 30°C, Humidity: 10 ~ 80% RH (no dew condensation)
Acoustic Noise
Acoustic pressure
Operation?approx. 48dB (A) (Glossy paper, Image, Print priority: Standard)
Standby: 35dB (A) or less
(Measured on ISO 7779 standard)
Acoustic power
Operation approx. 6.4Bels or less (Glossy paper, Image, Print priority: Standard)
(Measured on ISO 7779 standard)
Detector and Adjustment
Registration adjustment
Automatic / Manual
Banding adjustment
Automatic / Manual
Line length adjustment
Manual
Head slant adjustment
Automatic
Colour calibration
Yes (with a colour calibration notification function)
Head gap adjustment
Automatic / Manual (6 levels)
Non-firing detection
Yes
Non-firing compensation
Yes
Roll remaining detection function
Yes
Line Accuracy
±0.1% or less
User adjustments necessary. Printing environment and must match those used for the adjustments.

Memory
Standard memory
3GB
Hard Disk
320GB
Firmware
Languages
Printer language: SGRaster (Swift Graphic Raster), PDF & JPEG
PDF:
Supported Version 1.7
- List of the built-in fonts
Times-Roman, Helvetica, Courier, Symbol, Times-Bold, Helvetica-Bold, Courier-Bold, Zapf Dingbats, Times-Italic, Helvetica-Oblique, Courier-Oblique, Times-Bold Italic, Helvetica-Bold Oblique, Courier-Bold Oblique
JPEG:
Supported Version JFIF1.02
Job control
IVEC
Status reply
SNMP-MIB (Standard MIB, Canon-MIB), IVEC, CPCA
Direct Print
JPEG / PDF
Type
Flash ROM
Update
Updated from USB, Ethernet port (Utility use)
Operation Panel
Display
LCD (3.5 inch / 8.8 cm TFT colour)
Language on operation panel
16 Languages Selectable:
Japanese / English / German / Italian / Spanish / Brazilian Portuguese / Dutch / Polish / Russian / Danish / Simplified Chinese / Traditional Chinese / Korean / Thai / Indonesian / Turkish
Interface
USB A Port
Type
USB Memory (Direct Print)
USB B Port
Type
Built in (Hi-Speed USB)
Mode
Full Speed (12Mbit/sec), High Speed (480Mbit/sec), Bulk transfer
Connector type
Series B (4 pins)
Gigabit Ethernet
Type
Built in
Standard
• IEEE 802.3 10base-T
• IEEE 802.3u 100base-TX?/ Auto-Negotiation
• IEEE 802.3ab 1000base-T?/ Auto-Negotiation
• IEEE 802.3x Full Duplex
Protocol
SNMP [Canon-MIB, HTTP, TCP / IP (IPv4 / IPv6)]
Wireless LAN
Standard
IEEE 802.11n / IEEE 802.11g / IEEE 802.11b
Security
• WEP (64 / 128-bit)
• WPA-PSK (TKIP / AES)
• WPA2-PSK (TKIP / AES)

Print Head

Print Head
Model
PF-10
Type
Bubble-jet on demand
Head configuration
12 Colour integrated Type x 1 print head
Nozzle pitch
600dpi x 2
Nozzle per chip
18,432 nozzles (1536 nozzles x 12 colours)
Droplet size
Minimum 4pl per colour
Head replacement
User replacement

Ink Tank

Ink Tank
Model
PRO-540: PFI-51 (160ml) / PFI-53 (330ml) / PFI-57 (700ml)
Supply
Tubing system (with sub-tank)
Sub Ink Tank Capacity
Each colour 30ml
Colours
Pigment 12 Colour (PBK / MBK / C / M / Y / PC / PM / GY / PGY / R / B / CO)
Capacity
Sales use: 160 / 330 / 700ml
Starter use: 330ml
Level detection
Detected by dot count and electrode (Empty)
Smart chip
Each ink tank is equipped with EEPROM which stores its ink level

Media Handling

Media Feed and Output
Roll paper
One Roll, Front-loading, Front Output
Added Roll Paper
One Roll, Front-loading, Front Output
(60 inch model: Default , 44 inch and 24 inch models: Option)
Cut sheet
Front-loading, Front Output (Manual feed using locking lever)
Paper path switch (roll / cut sheet)
Manually switching (Roll paper, Cut sheet)
Automatic switching (Upper Roll, Lower ROll)
Delivery direction
Face-up, Front side
Media Take-up Unit
dual directions rolling take-up
Maximum stacking number of delivered prints
Standard position: 1 sheet
Flat position A2 landscape, glossy paper less 10 sheets, coated paper less than 20 sheets
(excludes strong curled condition)
Media Size
Roll paper (Width)
ISO: A3, A3+, A2, A1, A0
JIS: B4, B2, B1, B0
ARCH: 24", 30", 36"
Others: 8", 10", 14", 16", 17", 42", 44", Banner (300mm)
Cut sheet
ISO: A4, A3, A3+, A2, A2+, A1, A0, B4, B3, B2, B1, B0
DIN: C4, C3, C2, C1, C0
JIS: B4, B3, B2, B1, B0
ANSI: 8.5 x 11", 8.5 x 14", 11 x 17", 13 x 19", 17 x 22", 22 x 34", 28 x 40, 34 x 44"
ARCH: 9 x 12", 12 x 18", 18 x 24", 24 x 36", 26 x 38", 27 x 39", 30 x 42", 36 x 48"
Photo: (20 x 24"), (18 x 22"), (14 x 17"), (12 x 16"), (10 x 12"), (10 x 15"), (8 x 10"), US photo (16 ? 20")
Poster: 20 x 30", 30 x 40", 42 x 60", 44 x 62", 300 x 900mm
Others: 13 x 22"
Media Thickness
Roll paper
0.07 ~ 0.8mm
Cut sheet
Maximum Outside Diameter of Roll Paper
170mm or less
Media Core Size
Internal diameter of roll core: 2" / 3"
Media Width
Roll paper
203.2 ~ 1118mm
Cut sheet
203.2 ~ 1118mm
Minimum Printable Paper Length
203.2mm
Maximum Printable Paper Length
Roll paper
18m (Varies according to the OS and application)
Cut sheet
1.6m
Margins
Recommended area
Roll paper:
Top: 20mm, Bottom: 3mm, Side: 3mm
Cut sheet:
Top: 20mm, Bottom: 20mm, Side: 3mm
Printable area
Roll paper:
Top: 3mm, Bottom: 3mm, Side: 3mm
Roll paper (borderless print):
Top: 0mm, Bottom: 0mm, Side: 0mm
Cut sheet:
Top: 3mm, Bottom: 20mm, Side: 3mm
Borderless Printing
Media Width
[Recommended] 515mm (JIS B2), 728mm (JIS B1), 1030mm (JIS B0), 594mm (ISO A1), 841mm (ISO A0), 10", 14", 17", 24", 36", 42", 44"
[Printable] 257mm (JIS B4), 297mm (ISO A3), 329mm (ISO A3+), 420mm (ISO A2), 8", 16", 30", 300mm

Environment certifications

RoHS?